National Honor Society for Dance Arts
The National Honor Society for Dance Arts™ (NHSDA) is a program of the National Dance Education Organization. It is one of the most exciting benefits that NDEO offers its Institutional Members. The Secondary Program (grades 9-12) was implemented in 2005. To date, there are over 1,000 chapters in the US and over 15,000 students have been inducted in the past few years.
The National Honor Society for Dance Arts is run on an institutional basis. Chapters are set up at individual schools, and only students who are enrolled at that school may apply for induction. Individual students, not enrolled at a school that hosts a current NHSDA Chapter, are not eligible for induction. 

To recognize outstanding artistic merit, leadership, and academic achievement in students studying dance in public and private schools in K-12 education, dance studios, cultural/community centers, performing arts organizations, and post-secondary education.
To foster an appreciation for dance as a true art form and one worthy of recognition and prestige.
Establishing this chapter is one very important way BalletRox helps advance the field of dance education. Celebrating the artistic merit, leadership, and academic achievements of our exceptional dance students helps to create honor and prestige within our field and improve our image to those outside the field, and offers benefits for our scholars, institutions, and the field at large.
Recognition of their artistic merit, academic achievement, and leadership throughout their educational experience (Junior High – Collegiate).
Certificates at each level of induction, opportunity to receive the gold Honor Pin and wear the blue and white Honor Cord and/or Medallion at graduation.
Mentorship from Chapter Sponsor and networking with peers.
Leadership and development opportunities within their NHSDA Chapter, as they can assist the Chapter Sponsor with Chapter administration, record keeping, fundraising, and event planning.
To learn more about membership, please check back for the membership application and Induction Ceremony details which are posted below in late summer/early fall.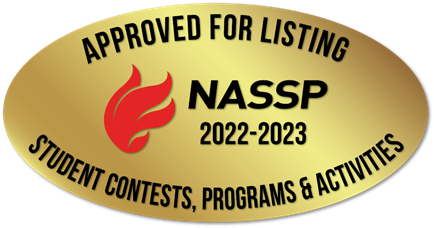 The National Association of Secondary School Principals has placed this program on the 2022-2023 NASSP List of Approved Contests, Programs, and Activities for Students.
Application Deadline: October 15th (for more information, contact Operations Manager Chinazo Otiono at chinazo@balletrox.info)